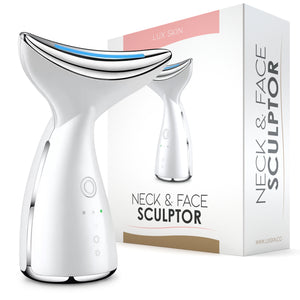 LUX SKIN® Neck & Face Sculptor combines multiple technologies such as LED Light Therapy, EMS Micro current, Heat Therapy and Facial Massage to give you an incredible facial in the comfort of your own home!
The neck & face sculptor causes some incredible chemical changes at a cellular level beneath the layers of the skin. The therapies combined into this wand have been shown to assist with:
Reduce double chin

Reduce fine lines/wrinkles

Tighten/tone face and neck

Increase blood flow circulation and collagen production

Cleanse pores from nasty bacteria that causes acne
Product Features >
4-In-1 Technology

 

- Combines 4 technologies into 1 device: LED Light Therapy, EMS Micro Current, Heat Therapy and Facial Massage.
Unique Design

 

- The device has been designed so it can target the trouble areas of the neck and face where skin tends to sag the most and fine lines first appear.
Lightweight Device

 

- Easy to hold and carry, you can use it from the comfort of your bed or couch, you can travel with it so your skin will be looking flawless year round.
USB-C Charger

 

- Comes with a handy USB-C cord for charging, no need for batteries or bases for the device.

Affordable

 

- A very affordable device compared to others on the market or salon treatments which will cost you hundreds per session!
How It Works >
The LUX SKIN® Neck & Face Sculptor combines 4 technologies which have proven benefits on the skin:
Blue Light:

 

410-470nm -

 

Great for acne treatment. Stimulates the production of oxygen radicals that kills acne-causing bacteria without damaging the skin.
Red Light:

 

620-630nm - Great anti-aging benefits because of its ability to stimulate collagen and elastin production. Red light therapy also helps with Eczema and Psoriasis.

Violet Light

:

 

380-450nm -

 

Helps reduces inflammation, increases skin cell generation. Violet light kills bacteria, making it a successful acne treatment/

 

EMS Micro Current

:

 

Helpful for boosting the skin's absorption of skincare products and serums so they become more effective.

Heat Therapy

:

 

Increases the blood flow in the skin, allowing oxygen and nutrients to move through blood vessels which is essential for the regrowth of damaged tissue and for the stimulation of fibroblasts.
How often should I use it?
5 minutes daily, 3-4x per week.
How long does it take to see results?
Results can be noticed in as little as 1 session! For most people you will see a change within a few sessions.
Is it easy to use?
Super easy! Just moisturise your skin with a serum or water based moisturiser, press the ON button and lightly massage the wand over the face, ensuring to target the areas of concern.
Why Over +800,000 Choose LUX SKIN:

100% Money-Back Guarantee
If you are not satisfied within 90 days, you can get a full refund!

Lowest Prices
Our prices are generally 50-80% LOWER than competitors. Our priority is customer satisfaction rather than huge profit margins.!

Fast and Free Shipping
We have reliable and fast shipping from the UK. Free for orders +£80!