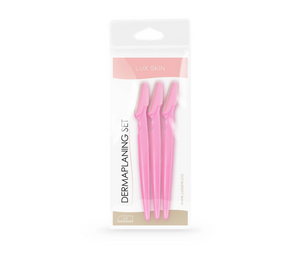 What it is: 
Reusable and high quality derma-planers. 
Why it's special: 
3 in a pack (reusable)
Shape eyebrows, hairline or just remove annoying peach fuzz

Reusable, lightweight design
Benefits:
Easy 2 minute treatment
Exfoliates Dead Skin

Remove Peach Fuzz
Remove Debris and Build-up.
Why Over +800,000 Choose LUX SKIN:

100% Money-Back Guarantee
If you are not satisfied within 90 days, you can get a full refund!

Lowest Prices
Our prices are generally 50-80% LOWER than competitors. Our priority is customer satisfaction rather than huge profit margins.!

Fast and Free Shipping
We have reliable and fast shipping from the UK. Free for orders +£80!
---